Canon 5D Mark II
We managed to get our hands on the hot new Canon 5D Mark II camera and put it through the paces. This is an extraordinary hybrid DSLR. The 1920×1080 HD movies produced by this camera are jaw dropping. While the lack of manual controls in movie mode and the poor audio quality leave a lot to be desired, the visual clarity and film-like depth of field are sheer awe inspiring. I haven't been this excited about a still camera since the early 90's when I got my plastic Holga medium format camera.
Being a video professional, I have a few complaints about the features of the camera, yet I can understand that it is first generation and a still camera aimed at a traditional photographer. So far, the lack of movie mode's total manual exposure is a big drawback (UPDATE 5/26 Canon announces firmware update for full manual control) along with lack of SMPTE timecode for a professional multicam shoot and ability to sync with an external audio recorder. These are features which remain high on my list, although I have found a super secret workflow solution. Yes, I have tested two Canon 5D's wirelessly recording timecode to an audio track and pulling the tracks into Final Cut Pro for perfect sync. Hint: <removed – to be revealed at a later date>
The next cool thing I've found about the camera is that you can use older lenses with the Canon EOS 5D camera via lens adapters. For less than $150, I was able to purchase a Canon EOS to FD lens adapter while at our local camera shop Kenmore camera in Seattle. Very cool! On the spot I was able to look through their glass cases full of used equipment where I quickly singled out a beautiful 70-210mm lens for a whopping $89! I giggled with glee in the store as I practiced rack focusing on a few fellow customers. My, my, this camera is a game changer folks.
I have shot with $20k+ cameras, and the video footage from the Canon EOS 5D Mark II is as good or better! No, you do not have the smooth zooms of your video camera nor smooth autofocus or the nice physical balance, but is the camera worth owning?
If you don't have to shoot live events or need continuous takes longer than 12 minutes, then I would call Obama and tell him you need $2,699 to help do your part in stimulating the US economy. Yes, that is the price of the body only. The kit with 24-105mm f/4L IS USM AF Lens is fetching $3,499. I'm using the Canon 24-70mm f/2.8 USM AF lens most of the time. The newer professional lenses from Canon are tack sharp and offer advanced features such as image stabilization and ultra fast auto focusing. The bummer about the "old skool" lenses is the lack of auto focusing, and my HAMA lens adapter has the aperture stuck wide open. The Fotodiox EOS to Nikon lens adapter looks like the way to go if you want some inexpensive lenses.
Of the many photographers switching over to video, I foresee three prominent points of potential failure unless they are addressed.
1) Audio
2) Moving camera
3) Focus
Quick tips for avoiding potential pitfalls:
Audio– use a separate recorder for the best results. A small device such as the Edirol R-09 portable recorder will provide a clean track and allow headphone monitoring. A quick clap of the hands at the beginning of each take will give you a spike in the waveform to visually sync to in post. If you want to use XLR based mics and can handle the AGC (Automatic Gain Control) pumping, consider the new BeachTek XLR adapter which is specially made to match the 5D – complete with phantom power and headphone jack!
So far, the cleanest out of the box semi-pro audio solution I could recommend is the Sony UWP wireless system. It comes with a lavalier, and you can also add the RODE NTG-2 shotgun mic. You would make the shotgun mic wireless via the Sony plug on transmitter. The cool thing about this system is two fold – you get headphone monitoring via the Sony receiver – and you get a clean amplification of the signal via the transmitter and the receiver. If you just hook the shotgun mic directly into the camera – the 5D's "subpar" preamp will give you hissy audio. The other cool thing is that knowing the key to great audio is getting the mic closer to the subject, therefore you'll want to use a little mic stand or tripod you can the mic right next to your subject. If you a dedicated sound person, then a boom pole would be best.
Here is a great example of a wireless mic in use with the 5D for a short project. Note that the system used is the Sennheiser wireless, which normally would be the model we would recommend for a traditional video camera with built-in headphone output. Since the 5D does not have the heaphone output, the Sony solution is less expensive while also allowing you that ability to monitor your audio with headphones. You do not want to be "flying blind" hoping that you're getting great audio in a critical project.
Moving camera– one of the coolest and least expensive set-ups is the 15′ of dolly track. I'm amazed at the quality that one can deliver with simple dolly moves. Very simple to push a dolly and achieve Hollywood caliber moves that rival the best fluid head moves. For handheld, a Steady Stick or a new mount from Bruce Dorn called the U-Boat commander looks interesting. Most photographers are going to scoff at the price and learning curve of a Steadicam stabilizer with full vest and arm, although that is the best option on the planet. Take a look at some of the Steadicam work by wedding photographers Still Motion. For an affordable solution, I like the panning ability of the Manfrotto monopod. With the monopod, you now have a steady shot and can still quickly move from position to position.
Focus– along with the shallow depth of field look comes the need to address sharp focus. Before pressing record, you have a great 5x and 10x zooming ability with the camera – access is nice with the button being easy to press with your thumb (it's right next to exposure lock). The expanded view allows for checking critical focus before pressing record, however it is disabled while recording. We've been using the HDMI connected IKAN 8″ HD monitor mounted on the camera's accessory shoe. However, a more exciting model has been released from Marshall electronics in March '09. The Marshall model offers something called "peaking." Video professionals that are accustomed to using full-sized broadcast cameras are familiar with this feature which turns the screen black and white and shows a red outline around items that are in focus – racking focus back and forth shows more or less red. You can also hit the pixel to pixel mode which will zoom the image in 1:1. I've tested the monitor and love it. You can use pixel to pixel and peaking at the same time! For follow focus – take a look at some of the options from Redrock Micro and Zacuto.
Post production
H.264 compressed clips are not easy to work with in an NLE so you'll want to transcode to a less compressed, less processor intensive codec. In post, we're taking the H.264 clips generated from the 5D onto a compact flash card through Apple's Compressor and transcoding to ProRes 422HQ. The file size jump using ProRes goes from 5MB/sec compressed to 22MB/sec. Holy drive space batman. That's about 80GB/hr. Update 1/22/09 : Please note that if you are using Apple's QuickTime, upgrade to version 7.6 for a wider color gamut.
Chroma key
The coolest aspect of shooting with the Canon 5D for me has been this new found notion that I can look at everyday life a little differently. I look at the world around me and think, "Would that make a cool virtual set?" With chroma key technology, you can take a still image or a movie and walk back into that environment whenever you please. This opens up a whole new world. Take a look what you can do by watching the sample below.

Chroma key with the Canon 5D and Reflecmedia.
Still photography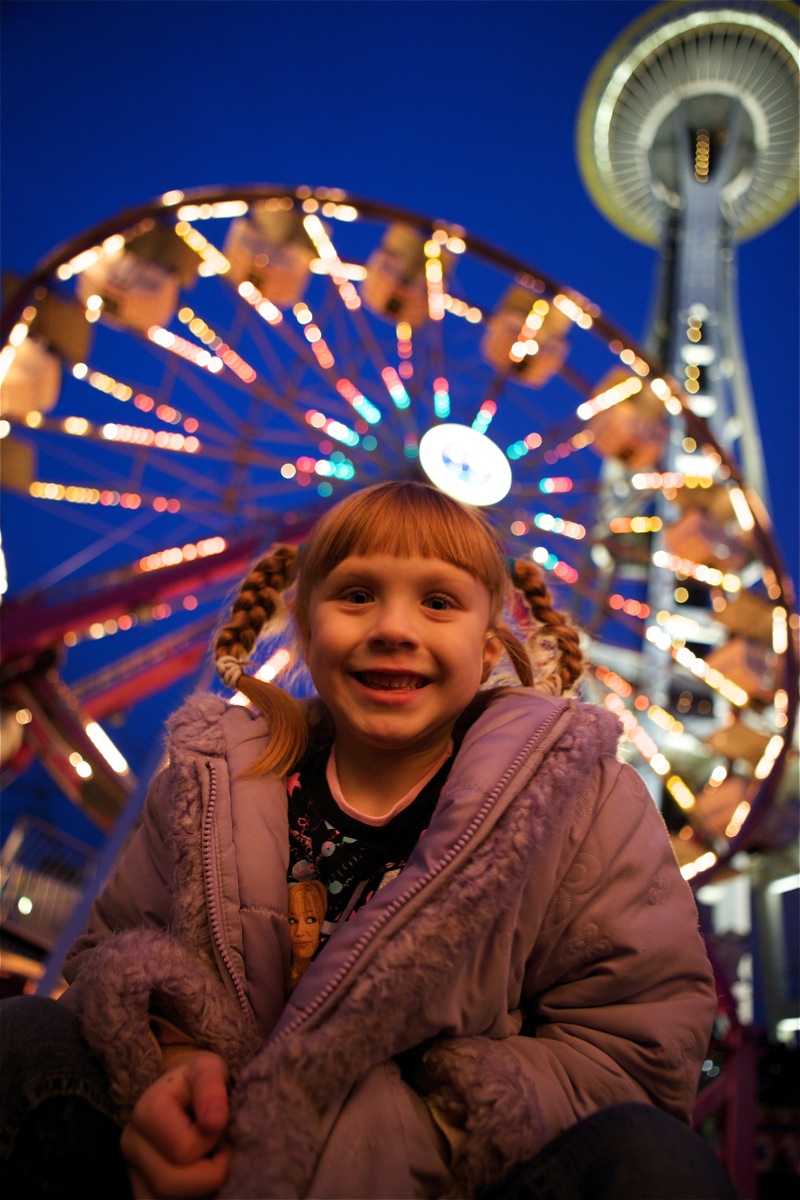 Seattle Center
Oh yeah, and it's a great still camera too! Here is a shot of my beautiful 5-year-old daughter – taken handheld in "Full Auto" mode with available light. The clean, low light capability at ISO 3200 is something that still photographers have been dreaming of. Most of the shots of the hotel in the video above were taken handheld at ISO 1600 or ISO 3200. This shot above was taken at ISO 800 1/25 F2.8 – with a non image stabilized lens.
Live view is accessable for taking stills so you can frame up your shot on the gorgious 3.0″ LCD screen. In exposure simulation mode, you get a great idea of what the shot is going to look like before you squeeze the shutter.